Artist Jerry Palen Helps Honor Artist Bill Gollings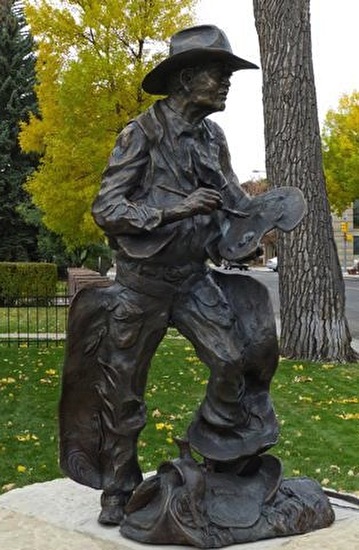 Jerry Palen was highly flattered to be selected to create a sculpture to honor cowboy artist, Elling William "Bill" Gollings (1878-1932), which was erected on the lawn of the Wyoming Arts Council in Cheyenne. Bill and Carole Ward of Saratoga commissioned Jerry to do the sculpture to pay tribute to Gollings.
Gollings, who came to Wyoming at the age of 20, worked as a ranch hand and cowboy, and began painting what he knew and saw in his life on the Wyoming range. Following his studies at the Chicago Academy of Fine Arts, Gollings settled in Sheridan, opening his studio in 1909 and pursued his artistic career the rest of his life.
The Wards wanted a Wyoming artist to do the sculpture so they approached Jerry who was honored. Approval was obtained from the State Building Commission and the Capital Complex Advisory Committee to place the statue on the northeast corner of the Wyoming Arts Council grounds, facing the capital of Wyoming.